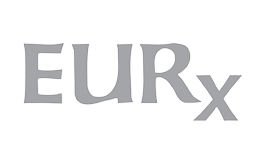 Short DNA Clean-Up Kit
Kit for purification of short single-stranded and double-stranded DNA fragments after enzymatic reactions. Range: 10 - 10.000 bases / base pairs.
Detailed Product Description
English Version

Detailed Reference Manual (English Version Only)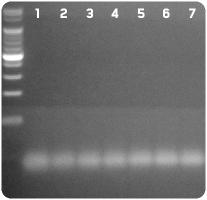 Figure:
Purification of a 24 nt ssDNA oligonucleotide, 3% [v/v] agarose gel;
Lane 1: 2 nmol non-purified ssDNA (control),
Lanes 2-7: Purified ssDNA recovered from 2 nmol input ssDNA oligonucleotide.
Quality Characteristics
Purification of short single- and double-stranded DNA in a size range from 10 bp to 10 kbp.
Separates non-incorporated nucleotides from DNA. Even very short ssDNA or dsDNA fragments are retained.
Removes problematic inhibitors from restriction- or ligation reactions.
Suitable for kinasing, dephosphorylating, end-trimming (repair-) and chemical modification reactions, as well as for in-vitro-evolution technologies such as SELEX.